With the birth of the Duke and Duchess of Cambridge's only days away now, royal baby mania is
beginning to take hold the world over
and souvenirs and memorabilia are already filling the shops!
There's the usual array of mugs and china, of course, with a dedicated,
official Royal Baby line
to be launched after the Birth, and for the first time ever, by the Royal Collection.

Harrods Cute Royal Baby Commemorative Mug and Plate.
Emma Bridgewater 1/2 Pint mug.
Hello! magazine.



But it's not about "classic" souvenirs that I want to talk to you today - given my passion for all things beauty and, specifically, nail-related, I wanted to share with you a few updates on the Royal Baby-themed nail polishes available at a beauty counter near you!

First to jump on the Royal Baby frenzy bandwagon was British brand

Butter London

, which on 25 April launched its brand new limited edition

Pitter Patter Nail Lacquer

, described on the website as an opaque aubergine shimmer.
Butter London Facebook page.

I got mine from US-based website
GBS Beauty
, and it's a very pretty colour, probably more suited to the winter months, as I like brighter colours on my nails in the summer, but the subtle purple shimmer gives a nice depth to it and I predict I'll get a lot of wear out of it come autumn!
Pitter Patter is also available as part of "The Royals Collection", a set of three, together with Lilibeth's Jubilee, which was first released last year as part of the Diamond Jubilee celebrations, and No More Waity, Katie, which celebrated the engagement between the Duke and Duchess of Cambridge.
American nail care company Essie also launched a celebratory limited edition nail polish duo kit, comprising a bottle of baby blue Lapiz of Luxury and a bottle of pale pink Muchi Muchi, for "Baby Boy Or Baby Girl?" as the box suggests.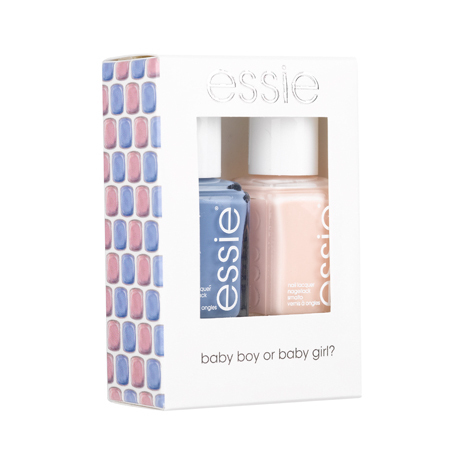 Bestdaily.co.uk
And last of all, I would like to share with you the idea I came up with for a personalised Royal Baby manicure I did for myself today. I alternated candy pink (Dior Vernis #155 Tutu) and baby blue (Pupa Lasting Color #745 Pearly Light Blue), as of course the baby's sex is yet unknown, and completed the look with a hand-drawn Union Jack on the left middle finger and a tiny crown, with all the details, including an ermine trim and a purple velvet cap, on the left ring finger.
I'm very proud of my new mani and can't wait to show it off! OK, my working environment is rather conservative, but I guess my colleagues will just have to put up with my nails while Royal Baby fever is upon us :)
What do you think? Will you be painting your nails a special celebratory colour?