Apologies for the long radio silence!
It's been quite a while, but first the holidays, than a couple of very stressful week while I got masses of paperwork ready for my upcoming bar examination, have prevented me from updating regularly.
But here I am, back again with a brand new post on Jackie and John Fitzgerald Kennedy's wedding, exactly 60 years ago to this day, 12 September 1953.
Theirs was the original "wedding of century", pre-Charles and Diana, pre-Grace Kelly and Prince Rainier, just good old 1950s glamour.
Jacqueline's wedding dress has gained iconic status over the years and has always been a particular favourite of mine, so here is a more-in depth look at it.
Made by African American dressmaker Ann Lowe, it had a traditional 1950s ballgown silhouette, with a full skirt and an off-the-shoulder, portrait-neckline bodice.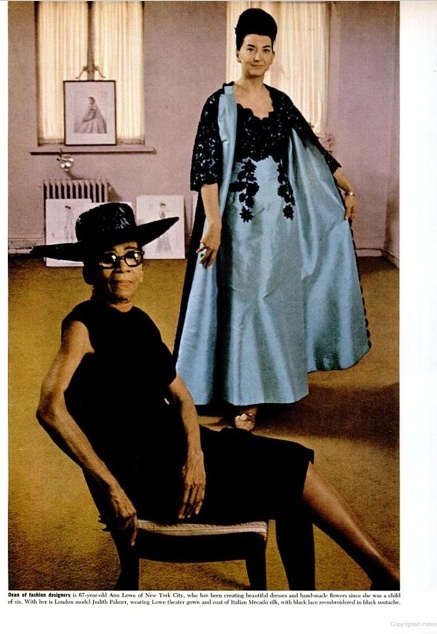 Ann Lowe in her New York atelier, Ebony magazine, December 1965.

The whole creation was made of 50 yards of ivory silk taffeta; the skirt was embellished with artificial mini orange blossoms. The lace veil was a family heirloom, having belonged to the bride's grandmother, as was her pearl necklace. The diamond leaf-shaped brooch she wore pinned to her right breast was a gift from her parents, while her diamond bracelet was a wedding gift from the groom as, of course, was her emerald and diamonds engagement ring.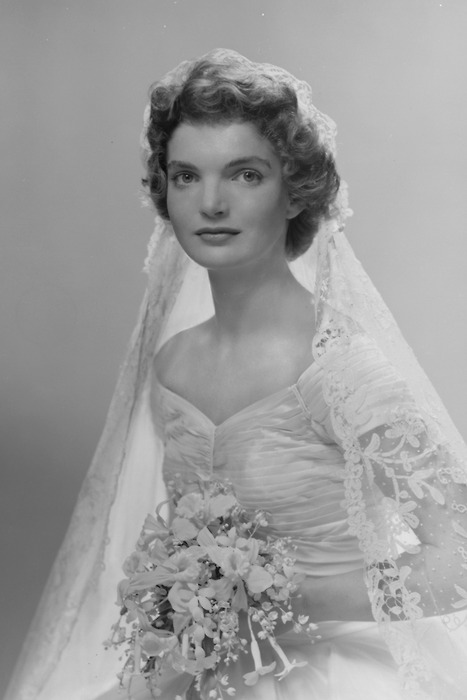 The wedding bouquet was made up of orchids, waxflowers, and miniature gardenias in shades of white and pink (to complement the colour scheme, as the ten bridesmaids wore pink silk dresses, made by Ann Lowe's studio as well).
A line-up of the bride and bridesmaids.
The bridesmaids dresses were pink silk faille with red silk sashes.
The dress, along with the bridesmaid's dresses, suffered a horrible mishap just ten days before the wedding, when it was damaged beyond repair in a flooding that occurred at Ann Lowe's New York studio. Luckily, working round the clock just before the wedding day, Miss Lowe and her staff were able to replicate all the dresses - and so the world could see Jackie in all her fairy-tale princess glory and start, right then, to fall in love with the Kennedy myth, I suppose!
A detail of the antique lace veil.
It was, reportedly, not one of Jackie's favourite dresses (she would have preferred, apparently, a more streamlined silhouette and a simpler design, but she deferred to the Kennedy family's wishes for a more traditional wedding gown), but in my opinion it was way more beautiful than the Valentino creation she wore to her second wedding, on 20 October 1968 to Greek shipping magnate Aristotle Onassis.
This was a relatively simple ivory silk gown, with a pleated, on-the-knee skirt and a rather austere, high-necked top with lace inserts and a row of self-covered buttons adorning the back.
Details can be seen more clearly in this photos of the dress from the 2012 exhibition "Valentino: Master of Couture" at Somerset House in London (although quite why the exhibition curators choose to complete the dummy with a platinum blonde wig is beyond me!).
So, leave a comment below and tell me: which dress is your favourite, the 1953 one or the 1968 one?