Here's my review of a repli-kate for the green silk "Budding Heart" tea dress by Suzannah the Duchess of Cambridge first wore in New Zealand and then, most notably, for Prince George's first birthday photoshoot.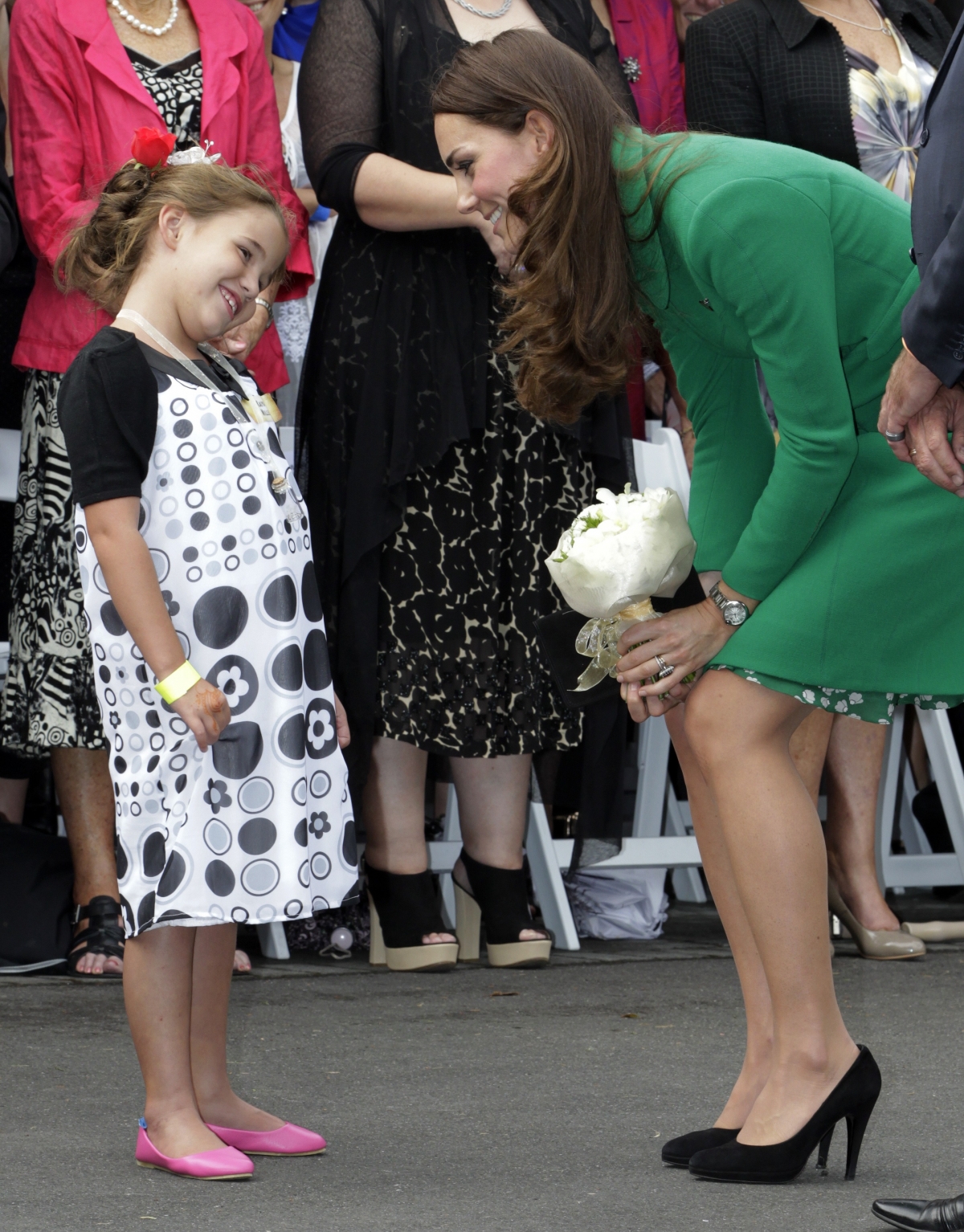 You can just about get a glimpse of the dress in this photo taken during a walkabout in Cambridge, New Zealand, 12 April 2014.
And a much clearer view here, holding Prince George on one of his official birthday photos, at the Sensational Butterflies exhibition at London's Natural History Museum.
As I was saying, Catherine's original dress was quickly identified as the "
Budding Heart Silk Tea Dress
" by British label Suzannah. Suzannah is a brand that creates "flattering, beautiful investment pieces" with a modern edge, but still infused with plenty of vintage charm, as is very much the case for the Budding Heart dress, which is based on a 1930s design.


Suzannah.
From the Suzannah website product description: the dress is made of "matt silk crepe de chine with skirt part lined in 100% silk habotai", and remains available in UK sizes 8-16 for £475 (about $770).
I loved this dress, and thought it'd be a perfect choice for summer, as it could be easily dressed up or down, so I was thrilled when numerous fashion blogs came up with repli-kate suggestions.
I ordered the "
Green Floral Heart Print Tea Silk Vintage Style Dress
" from eBay. It was a bargain at £29.99 (about $50), plus £5.50 standard international postage (about $9). I have to say first of all that I wasn't exactly impressed with shipping times: I ordered the dress on 17 August and it only shipped on 26 August. Afterwards, it took about a month for it to get to me in Italy with registered postage, and I received it on 29 September. The original listing stated the dress was going to be shipped from the UK, so I assumed it wouldn't take long for it to arrive. When I contacted the seller about it, I was told (as I had imagined...) that the dress was in fact shipping from China, hence the delay. The listing has now been amended to reflect this. Anyway, apart from this initial glitches, I was on the whole happy with my shopping experience: the seller always replied promptly and helpfully to my emails and when the dress arrived I was not disappointed.
Listed as being 80% viscose and 20% silk, the dress is, thankfully, much less shiny in person than it looked in the listing photos. The fabric is good quality, and tolerated a medium-hot iron, although I doubt very much the silk content is as high as 20%.
eBay repli-kate.

The cut looks a lot like the original Suzannah dress, down to the skirt part being lined in a white fabric, and the print is almost identical. The main difference I noticed is, in the eBay copy the white hearts have a black/dark grey contour (as shown below) which is absent in the original print:
eBay repli-kate.
I'm usually a UK size 12, I got the size 14, as I was worried it'd run small, and it fits me perfectly. The dress is available in UK sizes 8-18. I found the measurements supplied were fairly accurate; plus, at 101 cm long, the dress is the perfect lenght for me (I'm 168 cm tall).
The lowdown: you can definitely tell this is mass-produced and not the original, £475 dress, but for the money I paid I think it's a great repli-kate and I'm looking forward to wearing it in this first mild day of autumn!
Has anyone else purchased this or another repli-kate of the Suzannah dress? Let me know what you think!