My plans for today are writing about the "Diamonds: A Jubilee Celebration" exhibition, which ran from Saturday, 30 June to Sunday, 7 October 2012 as part of the Summer Opening of the State Rooms at Buckingham Palace, and which I was fortunate enough to visit on 5 October, while in London to celebrate my birthday!
The exhibition featured an amazing array of gems, drawn from the extensive personal collections of British monarchs, spanning from George IV to the present Queen.
Among some truly spectacular pieces, some of my favourites were Queen Victoria's Fringe Brooch,
the Delhi Durbar Tiara, made in 1911 for Queen Mary, and currently a favourite of the Duchess of Cornwall, who wears it often on State occasions,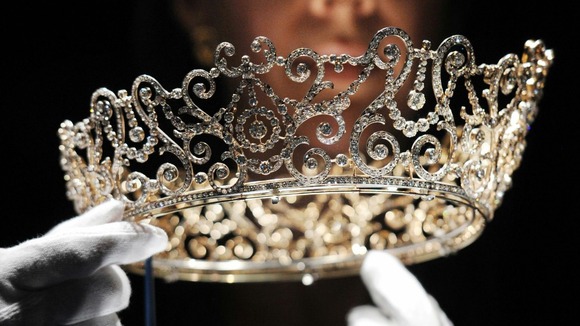 And although my favourite piece of "royal jewellery" remains Queen Mary's Lover's Knot Tiara, a favourite of Princess Diana's, which sadly was not among the items on show, it was a truly enjoyable exhibition nonetheless, and a unique opportunity to admire some of the less well known gems that are part of the British monarchy's vast collection.
I do really look forward to seeing what new exhibition the Royal Collection has in mind for the Summer Opening 2013!
Dare I hope something about royal babies from times past? That'd be totally fab!